Top university bans screening documentary on Modi's role in Muslim pogrom
A top Indian university has warned its students of strict disciplinary action if it goes ahead with a planned screening of a BBC documentary on Prime Minister Narendra Modi's role in the deadly anti-Muslim massacre in Gujurat in 2002.
Modi's Hindu supremacist government has dismissed the documentary as "propaganda, blocked its airing, and also barred sharing of any clips via social media in the country.
The documentary claimed that a team sent by the UK government to inquire into the 2002 massacre, in which nearly 2,000 Muslims were killed, found that Modi, who was then the state's chief minister, had prevented the police from stopping violence targeted at Muslims and was "directly responsible for a climate of impunity" that led to the violence.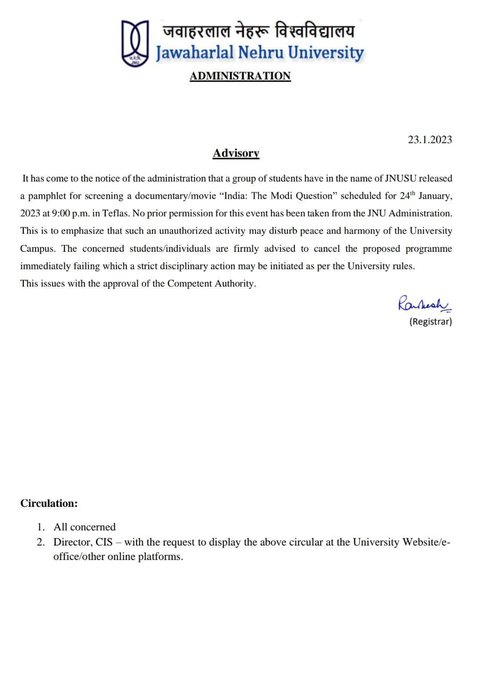 The students' union of New Delhi's Jawaharlal Nehru University (JNU), long seen as a bastion of left-wing politics, said on Twitter it would screen the documentary at its office. However, the university administration said on its website that it had not given permission for the documentary to be shown and threatened strict disciplinary action if the program was not canceled.
Modi's government has been accused of stifling dissent by free-speech activists and opposition leaders for years. On Saturday, it used emergency powers under India's controversial information technology laws to block the documentary from being shared on social media. 
12 police officers booked for murder of Muslim man in BJP-ruled Uttar Pradesh
Twelve police officers in the Hindu supremacist Bharatiya Janata Party (BJP)-ruled Uttar Pradesh state have been booked for the murder of a Muslim man on baseless allegations of cow slaughter. 
Zeeshan Haider, 42, was killed in police firing on September 5, 2021. Haider's family has been claiming that he has been falsely implicated in a cow slaughter case by the police.
A murder case has now been lodged against twelve police officers involved in the firing.
Over the last six years, the police in Uttar Pradesh state have been accused of killing members of minority and marginalized communities in fake encounters. 
Supremacist distributes sharp weapons to Hindus, calls for making India Hindu nation
Spewing anti-Muslim hate during a public rally in BJP-ruled Gujarat state, a Hindu supremacist called for making India a "Hindu nation."
"We want a political Hindu state," he said, addressing a crowd of over 1000 people armed with tridents.
The tridents were distributed among all those who attended the rally, to further encourage violence against Muslims.
Hindu supremacist organizations have been offering violent training sessions across the nation as calls for the genocide of Muslims grow increasingly common. Oath-taking events, during which Hindu extremists swear to fight for a Hindu state, have also grown commonplace.
In 2021 in Uttar Pradesh, Hindu youth were indoctrinated into the Hindu supremacist ideology through multiple oath-taking events. In an event reminiscent of the Hitler Youth, school children swore: "to turn India into a Hindu Rashtra (nation)."