Indian-Americans celebrate Republic Day across USA, with pledges to uphold the Constitution and combat hate
Indian-Americans celebrate Republic Day across USA with pledges to uphold the Constitution and combat hate
The Indian American Muslim Council (IAMC), an advocacy group dedicated to safeguarding India's pluralist and tolerant ethos, marked India's 70th Republic Day on Saturday January 26, 2019, with celebrations at chapters across the United States.
This year's Republic Day celebrations continue in a tradition IAMC has established over the last 17 years of celebrating the adoption of India's Constitution and its fundamental emphasis on pluralism and equality before the law for people of all faiths.
At the chapter event in South Brunswick., NJ, board member Mr. Jawad Mohammed remarked, "The Constitution of India was shaped by the diverse nature of India; its diversity of languages, religions, and ethnic communities. Thus, with its adoption, India became a sovereign, secular, democratic Republic and its foundations of liberty, justice and equality became integrated into the fabric of the nation. It is truly an extraordinary document."
Mr. Mohammed also drew attention to the fact that the Constitution of India was under a sustained attack on account of the shrinking space for religious freedom of minorities and human rights violations of minorities, "lower castes" and women.
The commemoration in Dallas was held at Fun Asia in Richardson, TX. IAMC-Dallas President Rahmath Baig said "We hold the constitutions of both the United States and India in high regard as Indian-Americans, and have a duty to preserve the ideals of both." Richardson, TX, Mayor Mark Soloman, and City Councilman Bob Doobay were also in attendance. Councilman Doobay expressed his felicitations on the 70th Republic Day celebrations as well as his appreciation for the Indian American Muslim Council promoting peace, equality and a commitment to uphold civil liberties.
IAMC-Dallas member Arshad Qawi noted, "We are extremely proud of our Indian heritage. India is blessed to have a constitution which protects basic civil liberties and secular principles. Unfortunately the socio-political environment in India today, is marked by an unprecedented level of intolerance and religious bigotry. It's imperative upon all of us as responsible members of the diaspora ,to get involved and make a concerted effort to promote peace and social justice for all."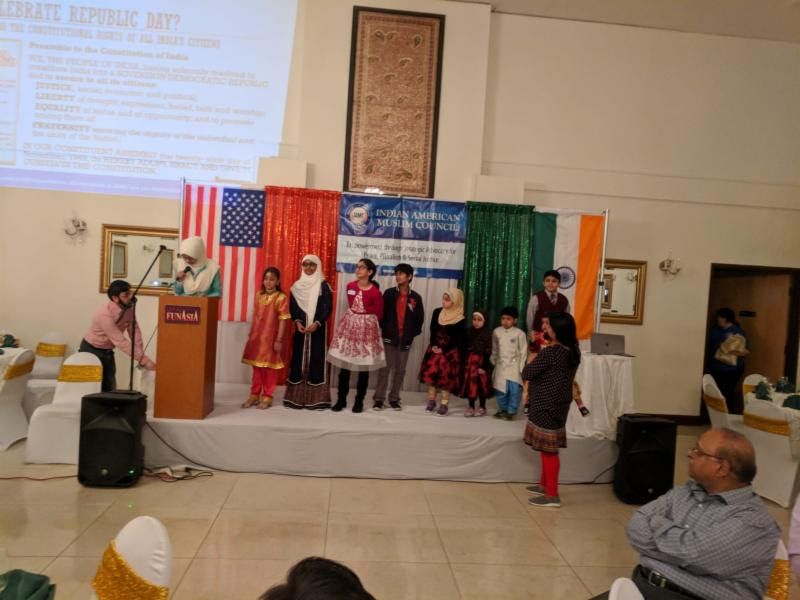 The four hour events included fun activities for children including a Drawing Competition, as well as Fancy Dress and Spot Quiz Contests based on Indian themes. The US national anthem was followed by the national anthem of India.
Speaking on the theme for the occasion "Strength in diversity, IAMC Vice President, Syed Afzal Ali, said "we gather today to recommit ourselves to the founding principles of the Constitution of liberty, equality and justice for all. We want to leave the world better for our children and that requires us to push back against the tide of hate and destruction and continue to build bridge of unity and hope. As Indian Americans dedicated to pluralism and human rights, we have a double reason to celebrate the founding of the Indian Republic. IAMC's Republic Day celebrations are an expression of profound appreciation for the ideals of justice, pluralism and democracy – the shared values of India and the United States."
Indian American Muslim Council is the largest advocacy organization of Indian Muslims in the United States with chapters across the nation.
For more information, please visit our website at: www.iamc.com
Like us on Facebook Follow us on Twitter
CONTACT:
Indian American Muslim Council
Phone/Fax: 1-800-839-7270
Email: info@iamc.com
Facebook: Indian American Muslim Council
Twitter: @IAMCouncil
Address: 6321 W Dempster St. Suite 295, Morton Grove, IL 60053.