Top Court sides with Hindu rapist-murders, dismisses plea challenging their release
In a shockingly blatant show of support for rapists and murderers, the Supreme Court dismissed a plea by a Muslim rape victim against the release of 11 Hindu extremist men convicted of gang-raping her and murdering her family members in 2002. 
The victim, Bilkis Bano, sought a review of the May 2022 judgment which held that the Gujarat state had the appropriate jurisdiction to decide on the premature release of the 11 rapists though the trial was held in the Maharashtra state.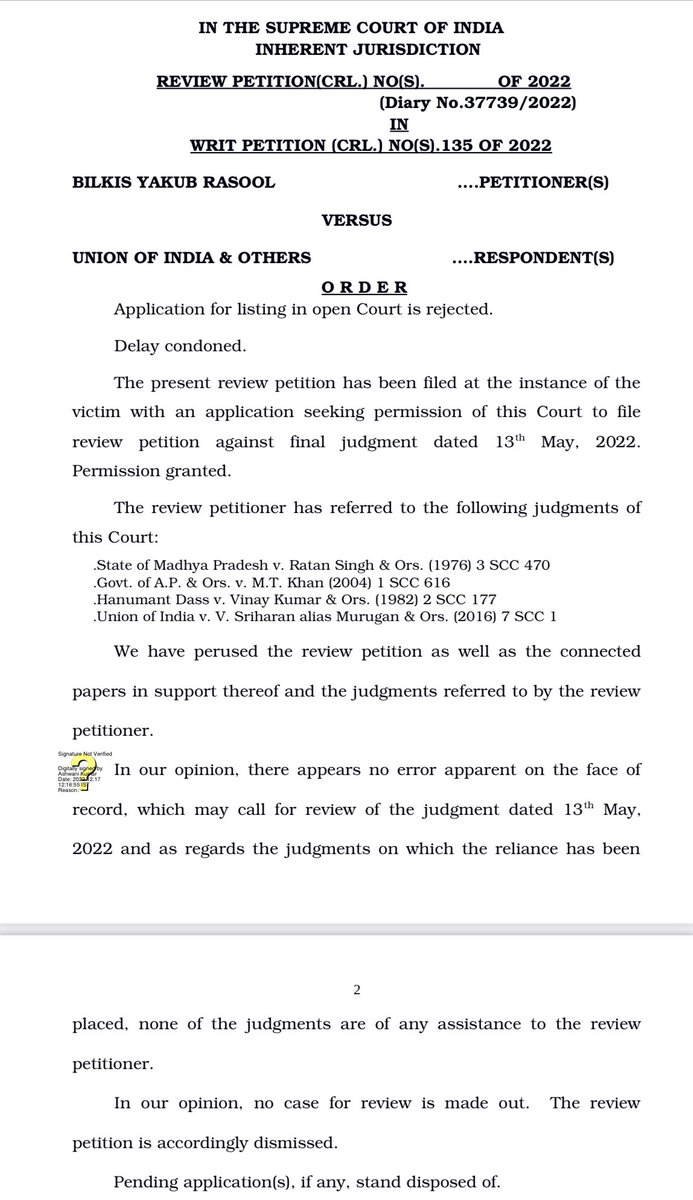 When she was 21 years old, Bano was attacked by a Hindu extremist mob along with 16 other family members while fleeing Hindu extremist mob violence in her Gujarat village. Bano, who was five months pregnant, was gang-raped and brutally assaulted, along with her mother and other women in her family. Bano's three-year-old daughter was killed when a Hindu extremist smashed her on the ground. Only three members of the family survived the attack, including Bano.  
The extremists, whose release was facilitated by the Supreme Court itself in August, have been welcomed with open arms by violent Hindu supremacists.
Amnesty International India chair slams criminalization of lives of Indian Muslims
Amnesty International India Chair Aakar Patel slammed the criminalization of the lives of Indian Muslims under Hindu supremacist Prime Minister Narendra Modi's regime. 
Patel made his comments during a speech, titled "Hindutva's assault on democracy," during a conference hosted by the Human Rights Forum, an India-based nonprofit human rights organization.
He condemned the exclusion of Muslims from politics under the ruling Bharatiya Janata Party (BJP) and said that Hindu supremacism is a "stark and dangerous" departure from the core constitutional values.
He urged that the political endorsement of the country's economic and social trajectory since 2014, when the Hindu supremacist BJP rose to power, needs resistance from society and pressure for a change of course.
Despite serious medical conditions, court rejects house arrest plea of Muslim leader
Undermining the medical condition of a 70-year-old Muslim leader, the Delhi High Court refused to consider a plea seeking his transfer to house arrest.
The leader of the now-banned Muslim outfit Popular Front of India (PFI), E. Abubacker, suffers from serious medical ailments, including a rare form of cancer – gastroesophageal junction adenocarcinoma – and Parkinson's disease.
The judge denied granting him house arrest, claiming that his condition did not require hospitalization. 
Abubacker has been in jail since October 6 for a case investigated by a federal probe agency under provisions of the draconian Unlawful Activities (Prevention) Act, which allows the government to label individuals as terrorists.
Modi's Hindu supremacist government on September 27 banned the PFI, a prominent Muslim organization. Over 350 people have been arrested in dozens of raids since then.
The crackdown on the PFI and its arbitrary ban has been widely condemned by civil rights groups.